Unlike their European neighbours, England does not celebrate public holidays in May in quite the same way. It is true they hope for good weather and get the occasional day off but how do they celebrate? Let's take a look.
MayDay celebrated on May 1st welcome along long-held traditions across British towns and villages. It was a traditional holiday to celebrate the coming of summer and the end of the long winter days, with locals waking up early to gather flowers and plants to decorate their houses in the belief they would be blessed with good fortune for the following year. Nowadays, many activities are put on for families in the town centers or local parks, offering an array of food and drink and undertakings including:
Morris Dancing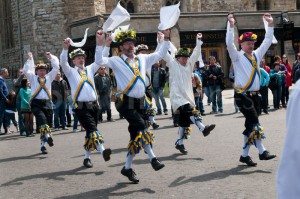 This traditional folkdance performed with sticks accompanied by an arrangement of instruments. The dancers blacken their faces to be in disguise, wear bell pads on their legs and dance with either sticks or white handkerchiefs. Their costumes change depending on the area they are from and range from white linen with different strips of coloured cotton emblazed on them to an all-black outfit. See the  video link below to watch the full action.
Video Link: Morris Dancing, Holmfirth, UK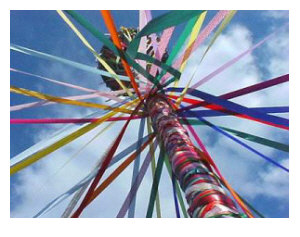 Younger performers often dance around the Maypole. The dance includes younger children dancing around a tall wooden pole, holding onto an attached ribbon. As the dance commences, they skip 'in and out' of each other to the music, the ribbons are intertwined and plaited on to the pole resulting in a plaited garland over the pole.
Other festivities include the selection of the Crowning of the May Queen, the specially chosen 'human imitation of Flora'. The Queen is adorned with a garland crown and is carried around in a floral chair to watch all the activities.
Our closest neighbours France are often associated with having an affinity with cheese, however the UK is not far behind. For those who want to add an element of risk to their holiday get involved in this rather another quirky festivity – Cheese- rolling.
Crowds gather at the top of a hill and a round of Cheese is tossed down the hill. Competitors run downhill to chase the round, and the winner is the first one to catch it. It has been recorded that some cheese rounds can travel up to 70 miles per hour downhill! See the video link below!
Video Link: Cheese Rolling, UK
Imogen Sewell