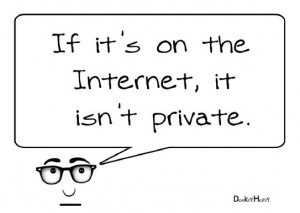 The internet has transformed the world in which we live, and in times of globalization has seemingly brought us closer together. With the click of a button you can be exploring the planet Mars using Google Earth, or discovering new adventures online all from the safety of your home, but with the openness the internet, how anonymous can one really be?
The amount of information placed on the internet is vast, but once it is out in the worldwide web it is accessible for the entire public sphere. We often use social media to enter personal information about ourselves, think about how many of you use Facebook. Even for professional reasons, there are sites such as LinkedIn that require a certain amount of information to be made available, but how secure is this data?
For online banking, there are certain security procedures put in place to reassure ourselves our information is safe, but what about when you upload pictures on Instagram and Twitter showing your location. The reality is we don't really consider the security of this type of information; we want to share the photos of fun events and to keep in contact with our networks via social media.
Now think of this, when you need to translate documents in another language, we would automatically use Google Translate. This application is free and quick to use, however what happens to the data you want to be translated?
Google's 'Terms and Conditions' state that "When you upload or otherwise submit content to our Services, you give Google (and those we work with) a worldwide license to use, host, store, reproduce, modify, create derivative works (such as those resulting from translations, adaptations or other changes we make so that your content works better with our Services), communicate, publish, publicly perform, publicly display and distribute such content."
In other words, anything you upload will be stored by Google and could potentially be used by them in the future. Not so much a problem if you use it for homework or general knowledge but when the information you are uploading contains sensitive information, confidentiality is not being ensured. Your identity may be compromised and private data is revealed to an outside source.
It is necessary to keep up with the technological demands made on translation companies today, and the use of online technologies and machine translations will grow as a result the ever-increasing, multi-lingual globalization process. So just how can companies that work internationally, or individuals and services that require information in several languages ensure their privacy whilst having a high-quality translation?
The Answer = ImLingo
Imogen Sewell